Embroidered Scarf | Silk Wool & Pashmina Custom Scarves
Are are looking for Embroidered Scarves, Shawls and Stoles ? We offer Embroidered Scarf in Cotton, Silk, Wool and Cashmere Pashmina. We also offer the option where in customer can choose the best scarf for their organization and have your name or logo embroidered onto it.Kashmir is most famous for its intricately woven and embroidered shawls, which for centuries have been a cornerstone of European fashion Around thirty thousand rural workers still weave and embroidered Kashmiri shawls, which remain a status symbol in India.
We at kashmirstorz are leading wholesale supply and manufacturers of high quality Embroidered Scarf and shawls. In this category we primarily offer there types – Hand Embroidered Scarves, Ary Embroidered Scarves and Shawls and Machine Embroidery Scarves.
Ary Embroidered Scarf and Shawls
Our luxurious collection of Ary Embroidered shawls are made from high quality materials using latest efficient techniques. In these type of shawls embroidery is done with help of Ary instrument. Since due to use of this instrument the cost of producing the embroidery work is less so this is bit cheaper type of embroidery based scarvs/shawls. Multicolour threads can be used to embroider a scarf/shawl. Embroidery done with Ary is bit thick.
Hand Embroidery Scarf and Shawls
This kind of finest form of hand embroidery called needlework is done by the skilled artisans taking months to make one shawl or scarf, captivating the beauty of the Kashmir into the shawl or scarf. Taking long durations to complete the embroidery work, this kind of scarves are always unique as no to wraps can be identical. A wide range of Hand embroidered shawls worked by our skilled craftsmen are available in various colours and designs.
Machine Embroidery Scarf and Shawls
This form of embroidery is cost effective and has a high production turn out. These type of embroidery scarf's and wraps are developed either by manual machine or computer embroidery machines. The total cost of embroidery work depends on the design.Multicolour threads can also be included in this category of embroidery work.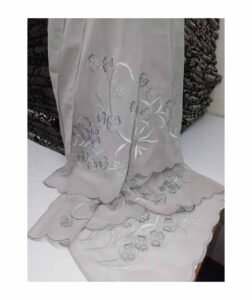 Every year our designers created new motif based embroidery designs on Silk scarves and
shawls which are as per fashion trends. Even customers provide us their artwork to be
embroidered on Silk Wraps. All types of techniques which includes needle, Ary and machine
are used to create new designs. Silk scarf draped around the neck makes a fashion
statement on its own, owing to its beautiful designs in smooth blending colours.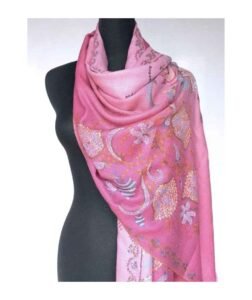 Embroidered Wool Scarves & Shawls
Whether you want vintage, trendy or luxury designs at kashmirstorz we strive to offer as per customer's taste and requirements. Sometimes we even blend printed designs with embroidery on wool scarves for extra edge. The fine wool is soft,but provides a lot of warmth on cool breezy days.It can be worn comfortably in cool weather, indoors or outdoors. It is woven in the traditional style of pashminas, to optimize for warmth, comfort and softness.These kind of wraps are perfect for evenings in the winter season when attending some special occasions. In this category also personalised scarves can be offered. usual sizes that are in demand are 70 cm x 200 cm, and 100 cm x 200 cm.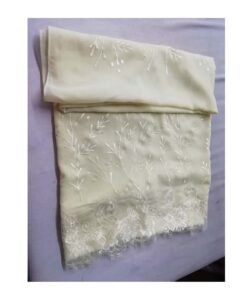 Embroidery Based Cotton Scarf, Shawls, Stoles
We make absolutely stunning cotton scarf with embroidered ends - perfect for adding that soft ladylike touch to your looks. Make a statement with this breathable and lightweight embroidered scarf and wear as a shawl around shoulders as it is wide enough.The embroidery patterns that we use are very much beautiful and delicate. Fabric is so soft and lightweight. Featuring a band of embroidered flowers against a solid background, these ladies' cotton scarves can be worn wrapped around your neck or as a stole, cape or sarong, and also as a wrap, headscarf, and in many more styles.They are ideal for everyday wear or an elegant party or formal occasion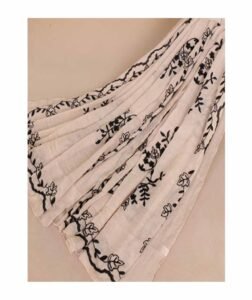 Embroidery Based Linen Scarf , Shawls , Stoles
We at kashmirstorz are leading wholesale supply and manufacturers of high quality Linen Embroidered Pashmina Scarf and shawls. 100% Pure Natural Flax Linen Fabric with Finer quality 60 Count Linen Yarn, resulting in a Lighter, Airy, Breathable, Softer and more Durable Fabric. We offer many beautiful Motifs and abstract floral pattern based Embroidery designs or custom designs as per buyer requirement.