Hand Painted Silk Scarves & Wool Shawls | Luxury Wraps
We manufacturers hand painted silk scarves. We also supply hand printed Wool Shawls, Linen, Cotton and Cashmere Stoles in wholesale. Our Wraps are well known for distinctive artistic design, colour combinations, perfect finish, colour fastness etc. Each of our 100% Habotai Silk art pieces are hand painted with the finest non toxic silk dyes and steam set to ensure long lasting enjoyment. Each piece is created one at a time and no two are alike.
Design hand-painting is different from Digital printing or Screen Printing Technique. It Involves the process of using free hand expression brushes and other tools to print. Our Hand painted Scarves and Stoles using brush are offered in different types of natural fabrics like Silk, Cotton, Wool, Wool/Silk, Cashmere etc exhibiting perfectly blending indian art with traditional and modern concepts. Our Hand dyed and painted scarves always comes with subtle differences in design and color making each scarf uniquely different from any other scarf created.
This skilfully crafted stoles makes an ideal addition to your wardrobe.
More Details about the product are as under.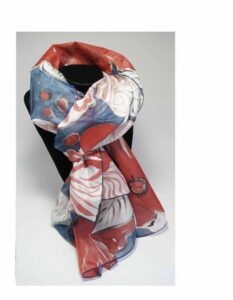 Hand Dyed, Hand Painted Silk Scarves & Shawls
These are beautiful hand dyed and hand loomed 100% silk scarves. Due to the handmade nature of each silk scarf by being hand painted, each scarf shows of the contrasting colours beautifully making each one a unique gift for women. These scarves are offered in various sizes like 70 cm x 70 cm, 100 cm x 100 cm, 70 cm x 200 cm, 100 cm x 200 cm, 120 cm x 120 cm. They can be used as either a lovely soft neck scarf, or as an evening wrap.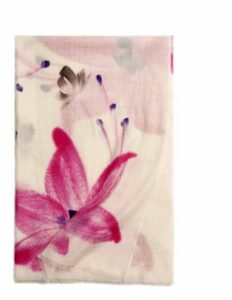 Each Fine Pashmina Wool scarf is treated as canvas. The art of wool painting is very similar to working with aquarelle. The beauty of the fine pashmina wool and the process of painting brings a feel of serenity and in depth harmony. Each scarf is original and one of a kind piece of art, created with love and devotion. All these scarves are either 100% Wool or Wool & Silk blended with eyelash fringes. They are painted with high quality, natural base, professional silk dye. The scarfs are then treated at high temperature. This process bonds the dye with the wool and prevent bleeding, or fading of the colors.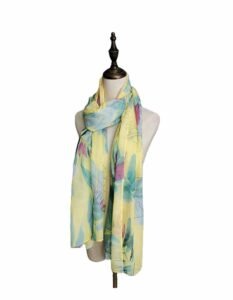 Batik, Block Hand Printed Cotton Scarves & Shawls
Each cotton scarf is printed with the original artwork hand painted by our expert designers, and handled individually with care and finely finished with a hem. We use 100% Ethical , elegant, luxuriously soft to the touch cotton which is lightweight and comfortable.All our scarves undergo a water treatment. They're free from nasties and safe for the skin.One can wear it as a bandana, or wrap it in creative ways around your neck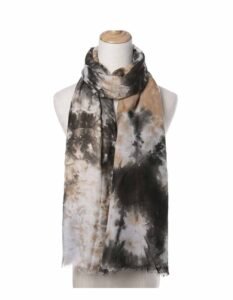 We make unique hand painted bamboo scarf using Shibori techniques. We only paint with non-toxic iron fix paints.The bamboo fabric is softer than cotton,with luxurious fell and a texture similar to a blend of cashmere and silk. Product of bamboo fibre is eco-friendly and bio-degradable. It's anti-static and sits well next to your skin.No irritation. Our hand dyed scarfs are completely unique, with rich colors and sophisticated abstract patterns. This makes an excellent gift for women on any occasion.