Wholesale Woven Scarves and Shawls Suppliers from India
Wholesale Woven Scarf and Shawls are always classic and timeless fashion accessories for use by both men and women. They are generally tagged as Unisex Scarves. These gorgeous fashion accessories can add the final touch to your fashion attire. They come in various design patterns like Check Scarf Designs, Striped Scarves , Plaid and Tartan Scarves and not the least Jacquard design based shawls. They can be worn in many different creative ways. For instance: You can wear them on your head as a head scarf or wrap them around your shoulders like a stole. You can tie them to your hair allowing them to hang freely around your neck for that sophisticated look. Or simply tie one around your hips as a scarf belt. However you wear them or with whichever attire you use them.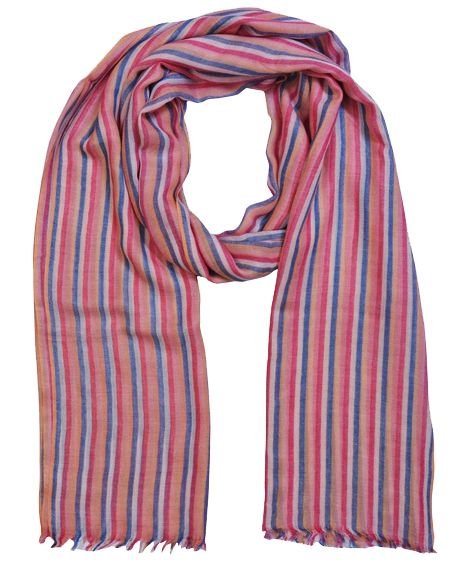 The Mens Striped Scarves are mostly preferred in Men Fashion Accessory Category but now days ladies also flaunt such scarves and sometimes they are tagged as Unisex Scarves. They are yarn dyed scarves.These type of scarves can be offered in various blends like Cotton modal, Wool and Silk, Cashmere Silk and many others..
View Product Detail
This category of Checked Scarf also comes under Unisex Scarves. They are yarn dyed scarves. These types of scarves can be offered in various blends like Cotton modal, Wool and Silk, Cashmere Silk and many others. There is something so classy and sophisticated about these scarves.
View Product Detail
This category of Plaid and tartan Scarves also comes under Unisex Scarf Category. They are yarn dyed scarves. These types of Pashminas and Wraps can be offered in different blends of yarn based colours and in various fabric blends like Cotton modal, Wool and Silk, Cashmere Silk and many others. There is something so classy and sophisticated about these scarves.
View Product Detail
Jacquard Scarves category for women has all the elegance which one looks for when it comes to high quality fashion accessories. It can be worn in a variety of styles for an elegant touch on both smart and casual occasions.The Self Jacquard pattern design is breathtaking which is a true mark of style and unmatched quality.
View Product Detail
In the world of fashion, scarves are more than just accessories; they are statements of style and individuality. Among the plethora of scarf designs, woven scarves in stripes, checks, plaids, and tartan patterns stand out as timeless classics. At our company, we take pride in being manufacturers of woven scarves that feature these enduring and elegant designs. At Kashmirstorz, we invite you to explore our dedication to craftsmanship and quality in creating scarves that effortlessly blend tradition with contemporary fashion.
A Passion for Quality
Our journey as manufacturers of woven scarves began with a commitment to excellence. We believe that every scarf should be a work of art, embodying the perfect fusion of design, craftsmanship, and comfort.
High-Quality Materials: The foundation of a great scarf is the quality of the materials used. We meticulously source the finest yarns, ensuring that our scarves are not just beautiful but also soft, warm, and durable. Whether it's pure wool for warmth or a blend of materials for added softness, we prioritize quality in every thread.
Artistry in Design: Stripes, checks, plaids, and tartans are classic patterns that have stood the test of time. Our design team takes inspiration from both traditional and contemporary sources to create scarves that are both timeless and trendy. Each pattern is carefully crafted to reflect our dedication to artistry and aesthetic appeal.
Craftsmanship: We are proud to work with skilled artisans who are experts in the craft of weaving. Our scarves are meticulously woven on traditional looms, where precision and attention to detail are paramount. These artisans bring decades of experience to every scarf they create, ensuring that each piece is a masterpiece.
The Versatility of Our Scarves
One of the remarkable features of our woven scarves is their versatility. We understand that scarves are more than just fashion accessories; they are a means of self-expression. Our scarves cater to a wide range of occasions and styles:
Elegant Stripes: Striped scarves from our collection are the epitome of timeless elegance. Whether you choose bold, wide stripes for a dramatic look or subtle, thin stripes for a touch of sophistication, our striped scarves are perfect for both casual and formal occasions.
Classic Checks and Plaids: Checks and plaids have a universal appeal. Our scarves in these patterns effortlessly elevate any outfit. They are versatile enough to be paired with a variety of ensembles, making them essential additions to your wardrobe.
Tartan Treasures: For those who appreciate the rich history of tartan designs, our scarves pay homage to this Scottish heritage. Whether you're celebrating your clan's tartan or simply want to add a touch of tradition to your attire, our tartan scarves are a perfect choice.
As manufacturers of woven scarves in stripes, checks, plaids, and tartan designs, we take great pride in creating accessories that transcend fashion trends and stand as timeless pieces of art. Our scarves are not just a way to stay warm; they are a canvas for self-expression, an embodiment of craftsmanship, and a symbol of quality.
When you choose one of our scarves, you're not just selecting an accessory; you're making a statement about your appreciation for tradition, quality, and style. Join us in celebrating the enduring beauty of stripes, checks, plaids, and tartans, and let our scarves be a part of your journey towards timeless elegance.
Why Choose Kashmirstorz as Scarf Supplier ?
Kashmirstorz.com is the leading Summer scarves and Wraps exporters. We have been in the fashion manufacturing industry since 1980. By Producing and exporting summer scarf collections to retail chain stores, and Luxury boutiques all over the world which includes the United States and Europe , the company specializes in bringing the latest fashion in Pashmina Scarves, Shawls and Wraps to their loyal customers at great prices. Whether customers are looking for pashminas, wraps, Kaftans, Maxi Dresses, Long Dresses and Beach Cover Ups, this is the source for all their needs. High Quality is our motto. Our Company believes in supplying high quality products, at unbeatable prices so that every satisfied customer once associated with us remains a loyal customer for a long period of time. Our simple, transparent pricing model means we can welcome orders from both trade & non-trade customers.